For the first couple of years, we built up our set list with originals and any singer songwriter covers that allowed us to expand our three-part harmonies.  So, where does a folk trio play with that brand of repertoire?  The answer is folk festivals, coffee houses, a few select funky bars, and any folk club/association that would have us on their stage.  While our friend, Steve Young, who had hosted us on his public radio show, invited us back to Morehead, KY for an event entitled "Folk Fest," we also made the rounds of the Leo Coffee House in Clifton, scheduled Arnold's when we could in downtown Cincinnati, and played a few coffee houses in Northern Kentucky.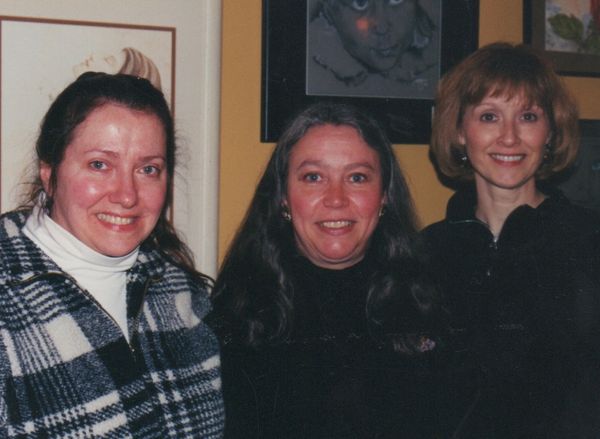 Photo from Starbucks in Newport, early 90s.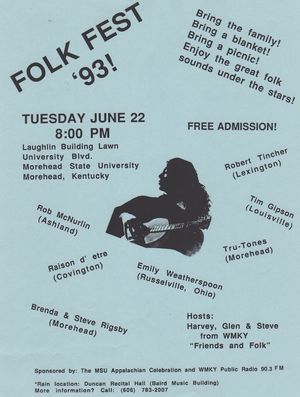 During these first few years of the new decade, we were also commissioned to learn some historic music for the Cincinnati Museum Center and Historic Washington near Maysville, KY.  The Museum Center asked us to learn songs from the 1780s-1830s reflecting what early settlers in our area would have sung and played.  Since these songs would've traveled with the settlers by way of flatboat, we were challenged to learn a cappella songs or songs that might be played on acoustic instruments. We sang these early pioneer sets at the Museum's Settlement Exhibit(near the flatboat, of course,) and also in Historic Washington at their Simon Kenton Festival.  Our booking contact for Washington was Heather French—yes, that Heather French who eventually became Miss Kentucky, Miss America, and then ran for Kentucky Secretary of State as Heather French Henry.  Somewhere in the archives we still have her carefully typed request for our performance.  Heather wanted us to play our regular set for the festival crowds on their "bandwagon" which featured all genres of music, but she also wanted us to roam the village and sing historically accurate music that people would've sung between 1780-1830.  Plus, she wondered if we might do that singing in period costume.
Violet Rae and Vickie had both majored in Theatre, so we were never short of contacts for finding costumes quickly at that time.  Violet Rae raided the Village Players' costume stash for some colonial/pioneer-looking caps, shaws, and aprons so that we could pull together an almost historic look.  I still think it looks a little like she grabbed the costumes from The Crucible, but we made it work.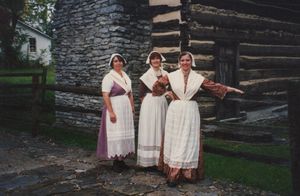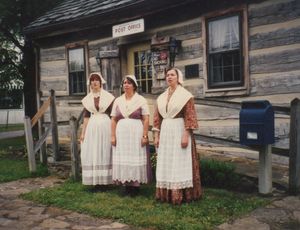 Washington must've been happy with our performances because they invited us back to perform at their Pioneer Christmas event for years to follow.  And the Museum Center invited us to learn even more historic music for their exhibits including Shaker music, Civil War Music, and a 1940s set for their Cincinnati Goes to War exhibit as well as the 50th Anniversary of D-Day.  We were well on the way to becoming that trio who always does its homework assignments.  Although, we did finally buy and build our own historical wardrobes to suit the eras.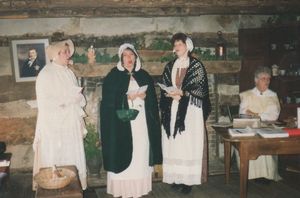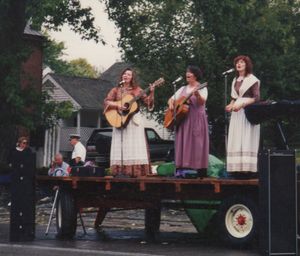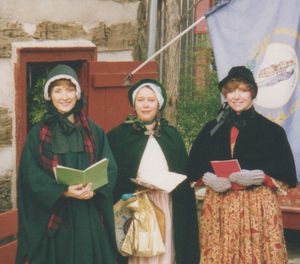 And our set list grew to regularly include several a cappella songs ranging from Shaker to Swing.