One of the perks of attempting to document a thirty-year history for this folk trio is finding unexpected artifacts in the "archives."  While I won't share any photos of the haphazard files that contain scraps of Raison D'Etre history, I can tell you that part of that filing system is a side drawer in my old metal office desk.  The previous owner of our ranch house ran a real estate office out of our closed-in porch.  When he left for his newly-built home, he "threw in" this heavy piece of office furniture which was plunked down mid porch near the phone lines. And here it sits some 22 years later, stuffed with pieces of my teaching, music, poetry and Raison D'Etre life. 
Once a month, I sift through the side drawer for recording masters, flyers, and photos that have helped me reconstruct how Raison D'Etre came to be.  Yesterday, I found something that really set my timeline on its ear:  a mimeographed program for the 1987 Simon Kenton High School Country Music Show. Listed on that program is a trio called "Blue Kentucky Girls" who performed the following tunes:  "Blue Kentucky Girl," "Telling Me Lies," "Home," and "Singing the Blues."  So, the trio that is Raison D'Etre actually formed for that talent show since three of these songs made it to our demo in 1991. 
This month I want to focus on how we managed to record three projects in the last four years of our first decade together.  As usual, it involved homework assignments.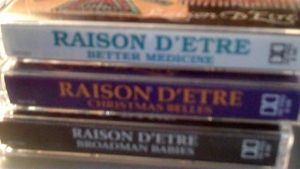 But our first recording frenzy began in 1996 when Village Players of Ft. Thomas decided to produce the play Dearly Departed for which the director wanted an old-time gospel or churchy sound track complete with musical cues from an organist.  Since Violet Rae was a Village Player at the time, we were drafted to do this score for free(community theatre—what can I say?)  The promo advantage for us would be if we recorded the soundtrack for the play, Village Players would hawk our resulting soundtrack to its patrons for the run of the play.  We thought that sounded like a fun project, so naturally, we also drafted Vickie's recording engineer husband to fire up his newly acquired DAT machine.  The end result was our home recording of Broadman Babies which has been a fairly steady seller over the years in downloads and CDs as well.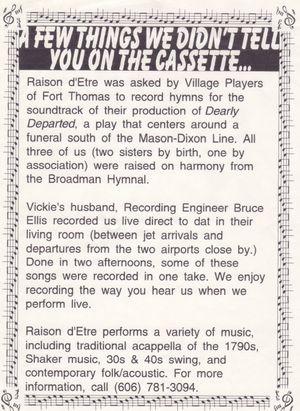 After singing at several historical sites during the holiday season of 1997, we decided to ask Bruce to record us on the DAT yet again for Christmas Belles.  This time we made the decision in February with the intent of having cassettes in hand by the next caroling season. We proudly peddled our wares on the holiday streets of Historic Washington, KY, Cincinnati, and Ft. Thomas that season. With some beautiful cover art from Freddie Thoman, Christmas Belles has remained one of our evergreen sellers in CD, download and streaming.  In fact, you can buy it this season right from our website at this link.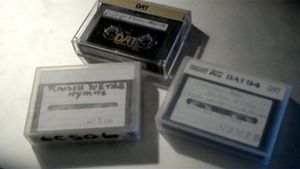 By the mid 1990s, we were playing several historical sites as pioneer singers, carolers, and Shaker Music interpreters.  We were also commissioned to perform WWII music for the 50th Anniversary of D-Day and for a Civil War music exhibit.  In other words, besides our  original tunes, we were racking up a repertoire of traditional and historical music.  A session at a time—whenever Vickie's husband, Bruce Ellis had a few hours—we would book some recording time at Corbett Studio at WGUC Cincinnati to record some of these songs.  It was very slow-going since Bruce was scheduled tightly to record the symphony and any other classical music guests who might drop into WGUC's studio to talk with the on-air hosts about their performances at Music Hall.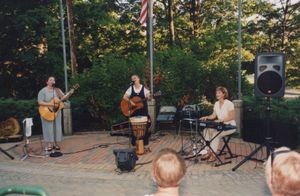 CD Release Party, 1999
By 1999 we finally finished our slow slog of studio time at WGUC and were ready to release Better Medicine in both a cassette(still popular then) and CD format.  To celebrate the release, we rented Behringer-Crawford Museum's event space, ordered some food, and invited as many of our friends as we could to our first CD release party.  Better Medicine stands as a kind of "documentary" of all the periods and styles of music we had learned to date: Shaker, Swing, traditional and singer songwriter folk.  We closed out our first decade by using Better Medicine and our performance history of playing outdoor festivals, art shows, and historical exhibits to apply to the Kentucky Performing Arts Directory. We've been included in that roster ever since.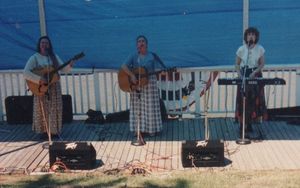 Augusta, KY               NKU 1999