After stepping off BB Riverboat's Hoedown Cruise for the final summer, Violet Rae, Vickie and I had decided to keep playing together as a trio.  We knew that would mean becoming less commercial in our song choices, more acoustic in our guitar playing and more dependent on Vickie to provide keyboard leads for our arrangements.  We'd also learned from our previous experience in the family band, Mudpuppy, that playing songs you really like that are not well-known is not exactly the recipe for constant bar gigs.  We knew that our days of landing two-week hotel lounge bookings or themed riverboat cruises were most likely at an end.  With all these knowns in mind, we set out to develop a set list.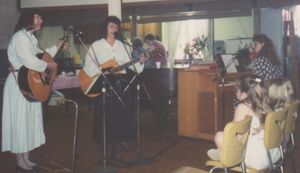 (Playing in what is now the lounge at the Southgate House Revival.  It was the Grace Methodist Sunday School Room.)
By August of 1990, we had a solid 20 minute set, so we tried it out for Vickie's in laws at the Rose Family Reunion.  All I remember from that first gig is that we played under a picnic shelter, it was hot, and that we had revived an old Mudpuppy cover, "The Rose" for the occasion.  Other than that, I can't tell you what else we played.  Most likely, we relied on some of the tunes from the Hoedown Cruise that converted best to a trio arrangement.  We did decide that we would only seek out tunes that provided plenty of chances to use our three-part harmony skills, a strength we had failed to build on in our former band configurations that emphasized mostly lead and back-up singing plus hot licks from the side men. 
Our goal for most of 1990 was to continue to build an evening's worth of songs so we could pursue playing in local small club venues and summer festivals.  We had decided to keep some of the country-flavored songs like "Do Right Woman," "Some of Shelley's Blues," and "Singing the Blues," and even "Pink Cadillac" in the rotation to call ourselves The Blue Kentucky Girls. We even included a harmony-rich version of Emmylou's take on "Blue Kentucky Girl" in the setlist.  As we listened to some of the great harmony singing on many of Emmylou Harris's albums done by groups like the White Family, Linda Ronstadt, and Dolly Parton, we knew that a three-part blend was definitely part of our long range plan.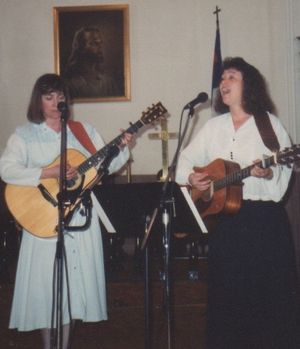 (Violet Rae and Roberta in the sanctuary of Grace Methodist in the early 1990s.  This is now where the bar is located.)  
By the time Simon Kenton High School's annual Country Music Show rolled around, we were ready to make our Blue Kentucky Girls debut.  Since I was teaching English and Newspaper at SK from 1986-1997, I understood that any guitar-wielding faculty member was encouraged to perform for one of the SK Band's major fundraisers—the country music show in the gym.  Most of the time, that just amounted to contributing one tune to the student, faculty, and community line-up.  Since the show was always well-attended and well-supported by the community at large, I convinced Violet Rae and Vickie that it would be fun to try out one of our newer covers for a large, friendly audience of band parents and music lovers.  We were all set to take the stage with Linda Thompson's powerful "Telling Me Lies" when the band director introduced us as "The Kentucky Blue Gills."  With that as introduction, we were forced to give that song all we had, which resulted in one of the most gratifying standing ovations I have every experienced as a singer.  And one time, I received a standing o from a lounge full of drunks in West Virginia after singing "Take it to the Limit" with all my Holiday Inn heart. So, you know that SK ovation had to be momentous.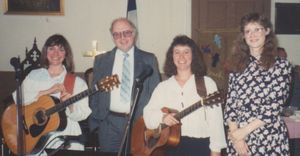 (The Blue Kentucky Girls pose with Grace Methodist pastor, Don Drewry.)
Following the Country Music Show introduction debacle, we decided that we no longer wished to be called The Blue Kentucky Girls—too little margin for error.  While we set out to record a demo at Corbett Studio in Cincinnati hoping to get more work, we also started thinking about a new, more durable name--one that not so many people would mispronounce. Famous last words.