Between 2008-2010, Raison D'Etre would continue playing at many venues around home like Edensong, Summerfair, The Coffee Cup Concert Series, and even the Appalachian Festival at Coney Island.  But starting in 2008, we ventured out of our regional territory to travel to our first Southeast Regional Folk Alliance conference in Arkansas.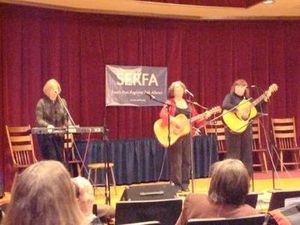 And while Roberta had been traveling to Wildacres Retreat Center in NC for a few years to do some songwriting workshops with the likes of Pierce Pettis and Marshall Chapman, Violet and Vickie decided to accompany her in 2008 to take part in Carrie Newcomer's workshop.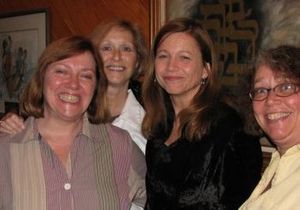 The trio was able to make this journey because Roberta received an Artist Enrichment Grant from Kentucky Foundation for Women, allowing the trio to take several songwriting retreats to SoLaTiDo(the retreat in NC,) and more local writing weekends at the Hopscotch House near Louisville, Hocking Hills, and a lovely writer's cabin in Adams County.  The time spent writing and arranging together resulted in Raison D'Etre's sixth recording, Tales from the Tall Side. 
We recorded Tales from the Tall Side(2009) at Group Effort studio with Dan Murphy engineering and helping us produce.  The album contains 8 original songs, our usual couple of swing era tunes—from our 1940s show—one traditional from our new Old West program, and a cover from our good friend, Danny Wilson, "Brown River," about growing up near the Ohio River.  Because most of the songs were original, we decided to dedicate our album art to our strong female relatives.  So Vickie's banjo and guitar-picking ancestors are on the liner notes, and her aunt (the subject of the song, "Another Train,) adorns the cover along with other family members.  Violet Rae and Roberta's great grandma Hoke is pictured on the disc itself while the trio appears in Old West garb next to the liner notes for "Buffalo Gals."  Another new beginning for us was performing at the Old West Festival in Williamsburg, OH as The Golden Girls of the West. That gig—and the Festival— lasted for over eleven years. 
Another new beginning for us—and a very interesting side trip—was meeting up with a retired software developer who decided to spend some of his retirement recording concerts in his video studio in Mobile, AL.  Denny Wilkins heard our version of "Zen Gospel Singing" on iTunes.  On the strength of that recording, he decided to invite us to perform for his family and friends at his studio venue called Java5.  Payment for our traveling to Mobile would include a concert video of the performance.  And to assure us that he could do a good video, he sent us one of the Limelighters that he had just produced.  A paid gig in Mobile, a nice stay at a hotel, and a video?  How could we pass that up?  As it turned out, he was using these videos to train his staff on using the automated cameras he'd set up at Java5 so that eventually, they would produce a TV show.  Between 2008-2010, we would travel to Mobile twice—once for this concert which resulted in a great concert DVD, and one more time to shoot some promo photos with Brad Puckett, play a Christmas concert at a local historic mansion, and also shoot some music videos for three of the songs from Tales from the Tall Side.  It was a very interesting chapter in our 30-year saga.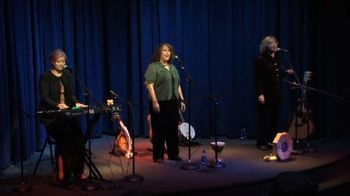 Last, but not least, we started two new associations in 2008.  When the director of Creative Aging Cincinnati heard us perform "Swing Canaries" for Fine Arts Fund Weekend at the Taft Museum, she asked if we might be interested in joining a roster to perform for seniors.  We'd been doing our show, "Swing Canaries" since the 50th Anniversary of D-Day in 1995 mostly for WWII reunions, so we were happy to extend that run to senior living venues and nursing homes.  We've been on their roster ever since.  Another 2008 association happened the same way.  Anne Pinnau was taking photos at a local banquet event for which we were performing.  She asked if we might want to be booked at new venue in College Hill called the College Hill Coffee Company.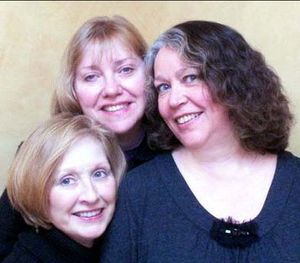 They couldn't pay us, but they did ask the patrons for tips.  We normally wouldn't go for such an arrangement, but the management is pretty active in getting patrons to tip.  And we really loved the idea of having a regular gig to try out new songs that wasn't a bar.  So, up until the pandemic, we've played there at least five times each year.  (Photo to the right taken by Anne Pinnau in College Hill Coffee Company's exquisite bathroom.)