Once we were juried into the Kentucky Performing Arts Directory, we traveled to many music venues in Kentucky.  But we also began to write more of our own songs thanks to a grant from Kentucky Foundation for Women that afforded us several songwriting retreats in Kentucky, Ohio, and even North Carolina.  And once we'd created those new songs and arranged some of our older ones for three-part harmony, we couldn't wait to record them on our fourth album, "Queen Anne's Lace." 
By the time we were ready to record an album again, Vickie's husband, Bruce, had changed positions at WVXU/WGUC to act as board operator/engineer for the radio hosts, to record remote concerts for the symphony, and to troubleshoot general sound engineering for the two stations.  Still, we'd enjoyed the ambience of the Corbett Studio during the several years it took us to finish "Better Medicine."  We booked some sessions with the new kid in town, Jeff Buettner. 
Jeff, a CCM grad, singer, and accordionist, brought his classically-trained ears to our singer-songwriter project. Plus, he had an extra good sense of humor which came in handy when we plastered signs on the studio door that read "Silence—Jeff and his Accordo-Kats at Work."  He even blessed us with accordion back-up for our version of Stephen Foster's "My Old Kentucky Home."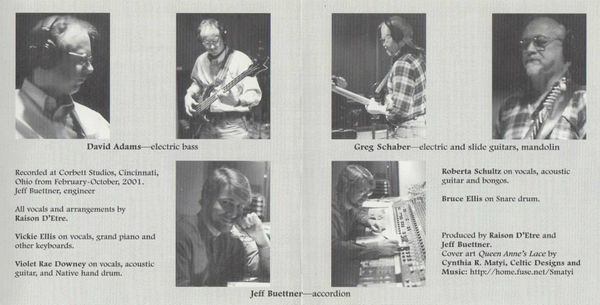 We enlisted a couple of other friends and musicians as "sidemen" for the project.  Guitar man extraordinaire, Greg Schaber, longtime friend and former band mate, laid down some mando and guitar licks on several of the songs, while Vickie's buddy from the Playhouse, David Adams, recorded some solid bass parts.  We hadn't worked with a full band since 1990, so it was nice having that extra depth on both the recording and for two of our release events.  Celtic musician, painter, and friend Cyndi Matyi gifted us permission to use one of her beautiful paintings for the cover art.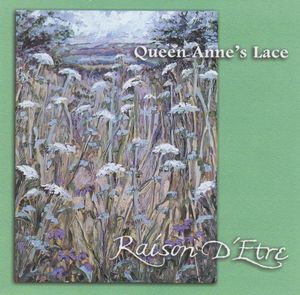 The new recording opened some touring doors for us as we also began to attend Ohio Arts Presenters Network(now Ohio Arts Professionals Network) when that booking conference came to Cincinnati in 2002.  We showcased for that conference a few times at the Midland Theatre in Newark, and eventually played many of the smaller theaters and opera houses in Ohio as well as the Lakeside Community on Lake Erie.  Then, songwriting contests took us to Alabama for several visits. 
As we wrote more songs, and recorded yet another album at Corbett entitled "Hearts Content," we entered a unique songwriting contest in Guntersville, AL where the contest took place on a big stage along the lake.  MOVA—or Mountain Valley Arts—challenged songwriters and their bands to perform original songs in several categories before a live audience.  MOVA was the brainchild of their Arts Council and the Convention Visitors Bureau, who had hoped to stretch Lake Guntersville's tourist season into the fall.    We entered their contests in 2005 and 2007.  Then we went back later to play for the Arts Council's summer concert series.  Some of our cherished memories from that contest include: 
Finding the room at the Holiday Inn dedicated to Ricky Nelson. 
Dancing with the contest director, Jennie McBride, to "Sweet Home Alabama" while Gunner Nelson played drums. 
Meeting singer songwriter, Pierce Pettis, who bought our next album after judging Roberta's category. 
When Violet won the comedy song category for "Legacy." 
When Roberta received a "Judge's Choice" award for "Broken Radio," with scoresheet comments in Pierce Pettis' handwriting. 
The really cool award ribbons they handed out in 2007.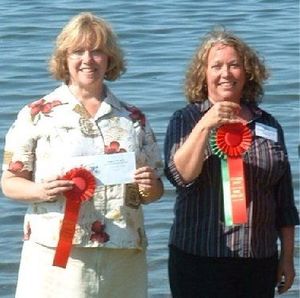 Roberta won third place in the folk/bluegrass category in 2007(the same year Violet won first in the comedy category) with her song "This Kind of Rain."  The judge's suggested that the song probably needed a bridge.  So, Roberta wrote one.  By the end of this middle decade, we found that we had written so many songs at our retreats and for contests that it was time to record again. "Tales from the Tall Side"  marked the end of our middle decade, but the beginning of more travel—to Arkansas, North Carolina, and to Mobile, AL for new conferences and some video adventures.  But that's for next time.