1999 was a turning point for the trio.  We finally finished our first studio album, Better Medicine, which our engineer, Bruce Ellis, assured us was a "documentation" of all the styles of music we'd performed since 1990: singer songwriter tunes, swing, Shaker, and pioneer ballads. It really did constitute a portfolio of sorts.  When one of us joined the planning committee for a new concert series at Covington's Behringer-Crawford Museum, the wheels of change began to spin for Raison D'Etre.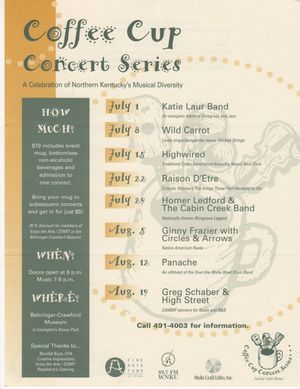 The Coffee Cup Concert Series was the brainchild of Liz Knuppel who was then the Programs Coordinator for Behringer-Crawford.  As I remember, my trio mate, Vickie, who worked for WNKU at the time, had been invited to serve on the volunteer planning committee because she knew Liz from previously volunteering at the Cincinnati Museum Center as an interpreter.  I might not have the facts clear, but I recall that I became her "recommended designee" for some reason.  Probably because I had taken a year off teaching. That was a happy accident since I throughly enjoyed the committee members I met during my tenure as the booking contact and the patron survey compiler.  The committee would decide the scope of our musical diversity and how we might compile patron preferences to always make sure the audience enjoyed what we presented.  Then, it was mostly my job to book the 6-8 acts, work with Director, Laurie Risch to write funding grants from the Kentucky Arts Council, generate press interest, and compile a final report on the patron surveys.  I used whatever "business manager" skills I had honed in the first decade of Raison D'Etre plus my teacher need for evaluation.  I was in hog heaven for eight seasons of volunteer service. 
We subtitled the series "a celebration of Northern Kentucky's Musical Diversity," and sought whatever funding we could through sponsors and grants.  When we decided to book an act from the brand new Kentucky Performing Arts Directory—the legendary Homer Ledford & the Cabin Creek Band—we realized that Kentucky Arts Council was offering 50% fee support for booking their juried artists.  The committee urged me to check out a few acts each season from that directory for future seasons.  As Laurie and I wrote that first grant, I realized that the directory might just be a good fit for Raison D'Etre since we performed so much a cappella and had a ready-made new musical portfolio in Better Medicine.  When I submitted a swing tune, an a cappella ballad and an original song along with our ten-year performance history,  we were accepted into the 2000 Performing Arts Directory.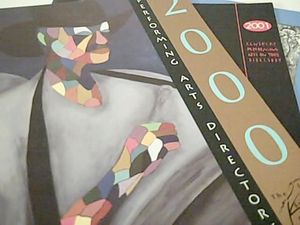 In just our first year or so in the directory, we were booked to play In Performance at the Governor's Mansion on KET, The Coffeehouse Series in Madisonville, KY's Glema Mahr Center, Kentucky on Stage showcase at the Brown Theatre in Louisville, Eddie Pennington's Festival in Princeton, KY and concerts at both the Richmond Art Center and the Singletary Center at UK.  This was all pretty heady stuff for a folk trio accustomed to mostly outdoor folk festivals, historic sites and the occasional coffee house.  We began to travel a great deal in-state as well as venturing farther into Indiana and Ohio.  We even expanded our range as far away as Wisconsin, New York, and Alabama.  But that's another story…or two.