All three members of Raison D'Etre are Morehead State University grads.  That's not where Violet Rae and Roberta met, of course.  When asked the question, "how long have you been playing with your sister?" Violet's standard answer is "all my life."  That's to let everyone know that Roberta is older.  But Violet and Vickie met each other through MSU's Theatre Department—some three years after Roberta arrived as a freshman who divided her time between Baird Music Hall and the Combs Building(back then, the province of Language and Literature, Theatre, Communications and Journalism.)  So, it wasn't a surprise when Steve Young, Roberta's co-host from an MSU TV talk show, called the newly minted trio for an interview at MSU's public radio station. 
Steve's radio show, Friends and Folk, aired each Saturday on WMKY at 3 pm.  Mostly, Steve and members of his folk trio(featuring Glenn Buckner and Harvey Pennington) would fill their hour time slot by spinning fabled folk acts and asking trivia questions.  Our particular episode spotlighted recordings by Back Porch Majority, John Denver, the Chad Mitchell Trio, and tracks from our demo tape.  Steve interviewed us between the several tracks he played.  While he focused mainly on the two originals we included, he also aired at least one of the covers.  This radio interview was pivotal for us as a trio for two reasons: 
We had to get our demo recorded in the spring to be ready for the interview which would air in July. 
We had to finally choose a new name besides "Blue Kentucky Girls." 
We managed to record ten songs from our set list—a good length for a demo.  We made the recording primarily to get festival and club gigs, since that was the way it happened in the late 80s/early 90s.  You called a club/festival organizer/coffee house, they asked for a press kit or demo, and you mailed it out or dropped it off. We needed the demo tape and a photo to get gigs.  We figured that a radio interview would give us that much more credibility.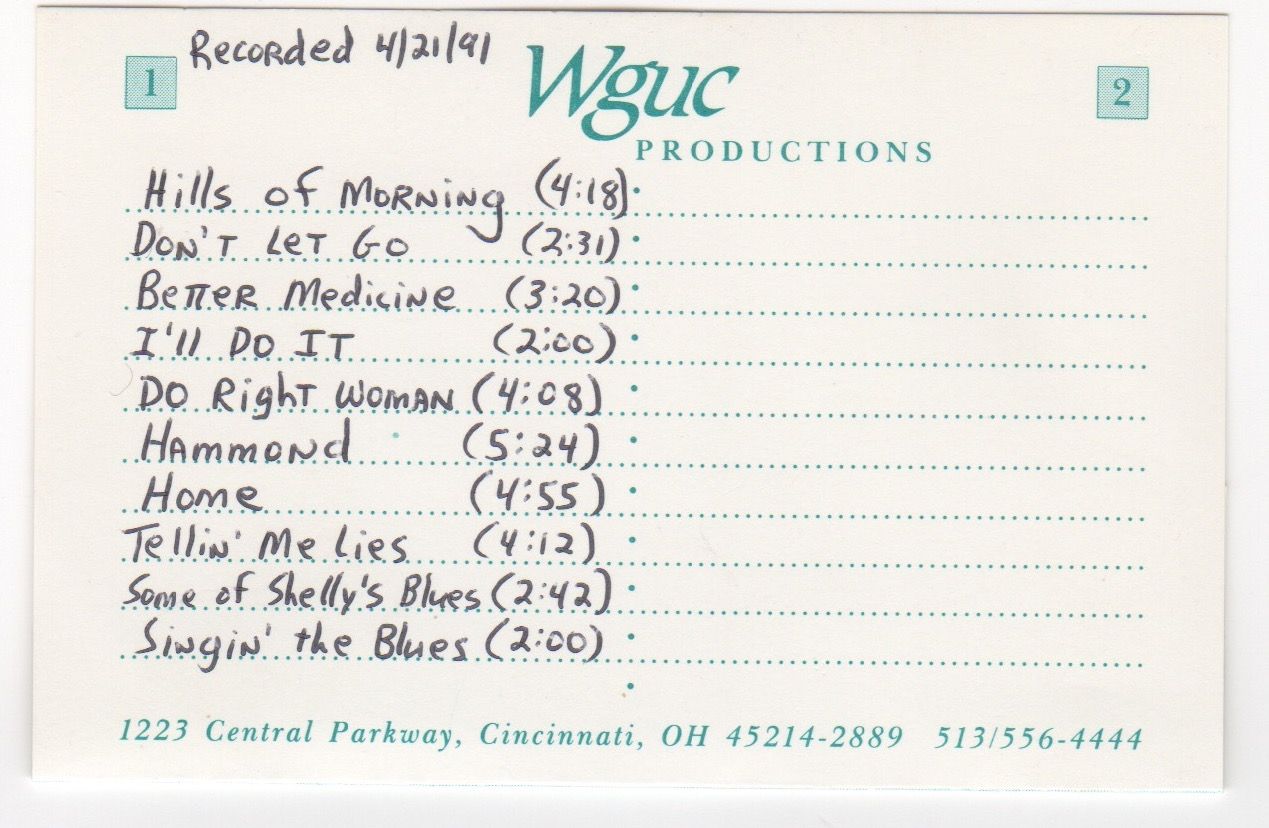 Vickie's husband worked in public radio as an engineer, so we booked some time at Corbett Studio in Cincinnati and recorded 10 songs.  Some of them were the country-ish standards we had performed on the Hoe Down Cruise, two were Roberta's originals, and three of them were the kinds of songs we decided we wanted to learn for their sheer beauty and challenge like Bruce Cockburn's "Hills of Morning," "Hammond," by the sister group phenomenon from New Jersey, The Roches, and "Home" by Karla Bonoff.  We were making song choices that were defining us more as folky and less as country, it seemed.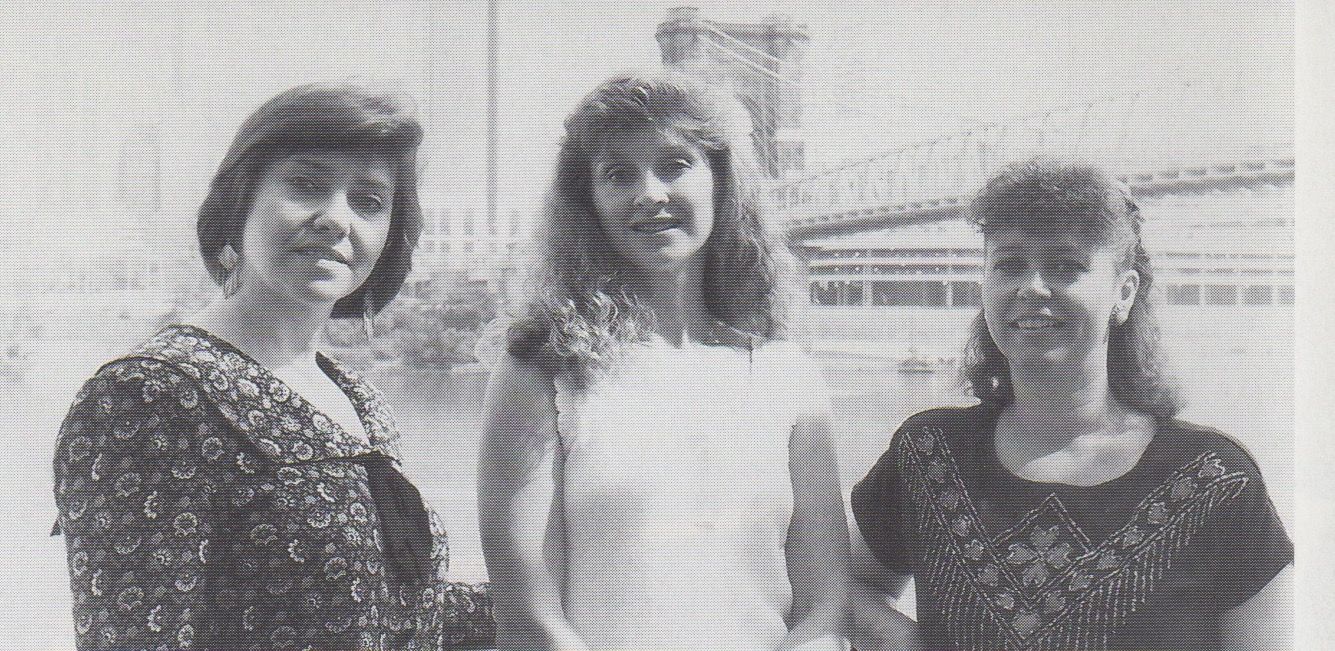 Our good friend, Dan Alford, took several photos of us on Covington's riverfront, so we had the demo and the photos, but no name.  We still had no name on the ride down to the  Morehead interview. Roberta was teaching high school English at Simon Kenton High School that spring, so she launched into some school stories to pass some of the 2 1/2 hours on the winding road to MSU. It seems that one of her fellow teachers had a funny story about a senior named Joe. Joe was really bright, but not very tolerant of certain high school rites of passage, especially the prom.  Joe's history teacher was attempting to give the seniors a lesson in proper etiquette for the upcoming prom, so she'd asked them to submit questions they had about which forks to use, and how to behave at a fancy banquet hall.  Joe had submitted, "what if I can't find my raison d'être and nobody cares?"  We laughed over the story, but Vickie said, "hey, that might be a good name for a trio."  We decided to try it out.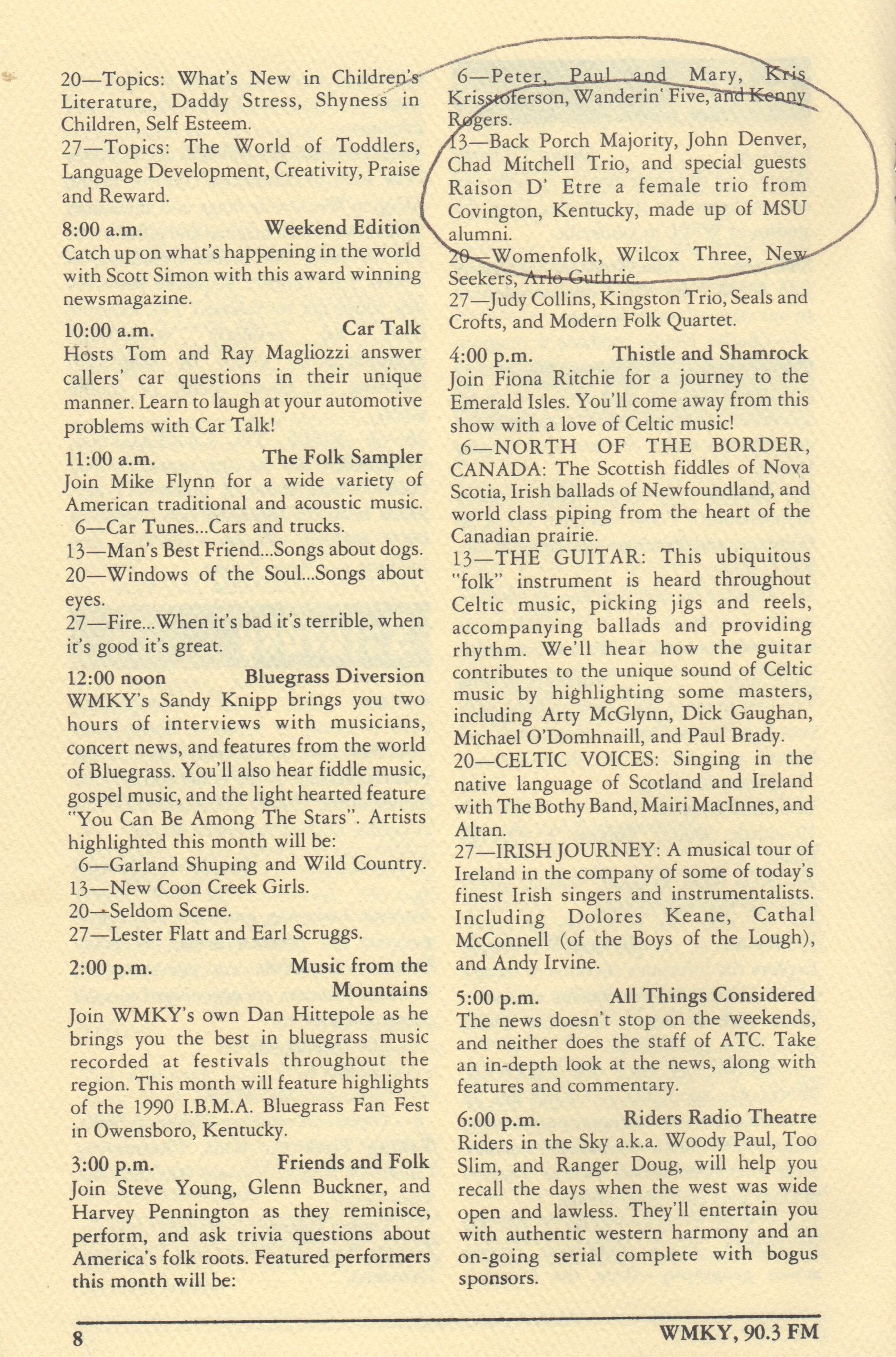 Despite the fact that Steve Young and many other friends and folk have called us "Raisin Deter," "The Dead Raisins," and Raison De Trois, we are still using our name which means "reason for being."